Welcome to Ohio Newspapers In Education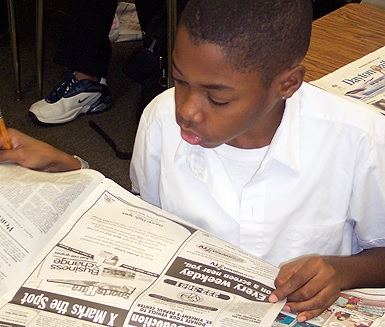 Ohio Newspapers In Education (ONIE) is an ongoing activity of the Ohio Newspapers Foundation, representing all Newspapers in Education (NIE) coordinators in the state of Ohio. The Foundation is affiliated with The Ohio Newspaper Association, the trade association for all 83 daily newspapers in Ohio and an additional 179 weekly newspapers.
All information on the NIE website is accesible without a login.
Newspapers In Education is an exciting and innovative program designed to motivate students by using the newspaper as an educational tool in the classroom. Newspapers can be used in a variety of studies including language arts, math, science, history, social studies and economics. Curricula are made available to teachers to show the many uses of this up-to-the-minute text. NIE coordinators are employed by local newspapers to promote and coordinate the use of newspapers as an educational resource in elementary and secondary schools.
NIE coordinators help provide classroom newspapers by recruiting area sponsors and community contributions to help cover the cost of the newspapers that are delivered to schools.
Their efforts make the newspaper an affordable tool for teachers. In addition, they:
· Host teacher workshops to assist teachers with classroom uses of the newspaper
· Provide model teaching
· Develop newspaper curricula
· Explain and promote newspaper careers
· Create in-paper family and school activities to promote reading and literacy
· And provide tours of newspaper sites.
Many newspapers have fulltime or part-time NIE coordinators, while others have staff who are responsible for the NIE assignment. All newspapers are interested in developing young readers and want to help teachers in their local schools. If you are interested in having "the living textbook" delivered to your school please click on Contacts to locate your nearest newspaper!
For more information : http://www.ohionewspapers-in-ed.org/
credit : http://www.ohionewspapers-in-ed.org/