How can we protect children from the harmful effects of bullying? – live chat

Join our live chat to discuss bullying and mental health – as part of Anti-Bullying Week – on Wednesday 18 November, 5.30pm to 7.30pm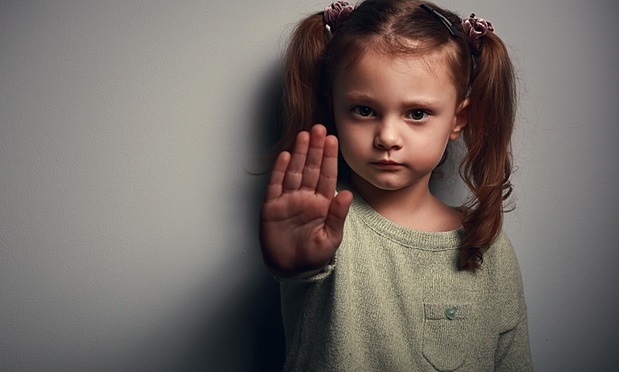 How can we stop bullying and the affect it has on our children's mental health? Photograph: Alamy
It's no surprise that children who are taunted by their peers can be left feeling lonely, anxious, depressed and unconfident.
A recent report in the Lancet Psychiatry journal suggests that if you are bullied as a child you're at greater risk of developing psychological problems as an adult. In fact, the research found that children who were bullied were five times more likely to experience anxiety and twice as likely to talk of suffering from depression and self-harm as those who were maltreated at home.
Dr Jennifer Wild, associate professor of experimental psychology at the University of Oxford, said the findings highlight "the devastating consequences of bullying and the need for zero tolerance programmes."
Hope Whitmore was taunted as a child because of her high-pitched voice and a condition that later placed her on the autistism spectrum. She says even now she goes through stretches of depression. "I think much of this reaches back to those formative years, when I was told every day by my peers that I was rubbish."
Our panel of experts will be on hand on Wednesday 18 November from 5.30pm to 7.30pm to debate the affects of bullying on mental health – and offer their advice and support to education professionals. They will answering teachers' questions on everything from identifying bullying and mental health issues to offering the right help and support to those who have been affected. To join the conversation, post your questions in the comments section below. The thread is open so feel free to post any questions you have now and our panel will answer them when the chat commences – or join us live.
Our panel
Lauren Seager-Smith is national co-ordinator of the Anti-Bullying Alliance (ABA). She is dedicated to improving the lives of children and young people and has been with ABA for more than seven years. She previously worked with children at risk of school exclusion with Save the Children; in behaviour support in a secondary school; and as a coordinator for a global youth volunteering charity. Follow @ABAonline on Twitter.
Alex Newton is programmes manager atStonewall. He coordinates teacher training and works with schools to tackle homophobic, biphobic and transphobic bullying. Follow them@stonewalluk.
Charlotte Levene is a trainer and consultant forYoungMinds. She is a qualified social worker with an expertise in looked-after children and young people's mental health. She has more than 20 years' experience working with and supporting vulnerable young people, and is part of a project in east London committed to delivering a whole-school approach to building resilience, where she is leading on student engagement. Follow@YoungMindsUK on Twitter.
Lee Hirsch is a film director, producer and social entrepreneur. In 2012, he released the film Bully and so far 4 million children have seen it for free. He beganThe Bully Project, a social action campaign that uses film to inspire parents, educators and students. It highlights systemic changes to improve school climate and promote social and emotional learning. He tweets @bullymovie.
Christine Perkins is an Australian psychologist working as the co-ordinator of Red Balloon of the Air, Red Balloon's virtual provision. For almost 20 years Red Balloon has recovered children who self-excluded from school because they were either severely bullied or experienced a traumatic event in their life. You can follow them on Twitter @RedBalloonLGC.
Caroline Hounsell is the director of partnership and business at Mental Health First Aid England and an accredited psychotherapist. She has been involved with research and content development of many training courses, including Youth MFHA, Armed Forces MFHA and MHFA Lite. She has personal experience of being a young carer for a family member who had mental health issues. Follow on Twitter @MHFAEngland.
Adrienne Katz is the director of the Bullying Intervention Group (BIG). She has more than 10 years' experience working in bullying intervention work and, along with her colleagues, has managed thousands of bullying and friendship issues.
Jane Fletcher is director of education at Into Film. She has extensive experience in the world of charity and moving image and is a qualified psychotherapist. IntoFilm tweets @intofilm_edu.
Dr Jane Frances is the education, inclusion, and anti-bullying policy expert atChanging Faces, working with and for children and young people who have a condition, injury, illness or mark that makes them look noticeable or unusual. Follow Changing Faces @faceequality.
Dr Wanda Wyporska is the lead equalities officer at the Association of Teachers and Lecturers (ATL). She established the union's lesbian, gay, bisexual, transgender (LGBT), staff with disabilities and black and minority ethnic (BME) networks, and has developed the Safer Schools Network – a coalition of leading expert organisations, academics and practitioners. Follow her on Twitter@ATLWanda.
credit : http://www.theguardian.com/teacher-network/2015/nov/13/how-can-protect-children-harmful-effects-bullying-live-chat#img-1